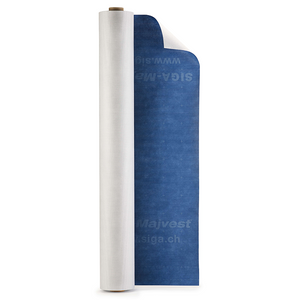 SIGA Majvest: 18" Wide
$9830

$98.30
---
SIGA Majvest: 18" Wide
Width: 18" 
Length: 164 feet
Square Footage: 807 square feet
Thickness: 0.5 mm
US Perm Rating: 68
The sturdy and rainproof membrane Majvest provides for permanently windtight facades on the outside. SIGA-Majvest is highly tearproof and flexible, so it is easy and safe to lay. The material is diffusion-open and permanently protects the wall construction from condensation build-up. With a width of 4.9 feet and the practical cutting and bonding aid SIGA-Majvest can be applied very efficiently. Material: 3 layered, microporous functional layer, reinforced on both sides with PP fibre-fleece.
Advantages:
3 layer, tear-proof and flexible - can be laid easily, quickly, and securely
3 m wide with cutting and bonding aid - saves time
For all closed facades - for all-purpose application
Tape the staple heads and seal the overlap joints and connections with matching exterior tape for SIGA Majvest: Wigluv 60
This item ships by FedEx.
---