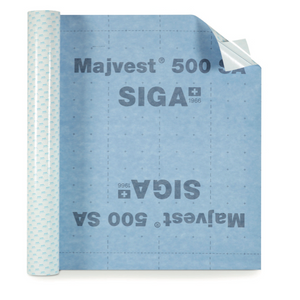 SIGA Majvest 500 Self Adhesive: 60" Wide
$79960

$799.60
---
SIGA Majvest 500 Self Adhesive: 60" Wide
Finally! A self adhered exterior membrane with no primer required
high adhesive strength at highand low temperatures
sticks in all seasons
fast and clean application, saves time
tear-resistant release liner with a 50/50 split
easy to remove, saves time 
Width: 5 feet
Length: 100 feet
Square Footage: 500 square feet
Microporous PP sheet with full-coverage adhesive on reverse Thickness: 28 mils • Installed Weight per unit area: 0.84 oz/sq ft UV stable: 6 months (IECC zones 3-8) • Fire behavior: Class A (ASTM E-84) • 13 US perms (ASTM E96 Method A) 
SIGA Majvest 500 SA is a vapor-permeable, 3-ply membrane, with the reverse face fully coated by a pressure-sensitive glue for direct bonding to substrates. The adhesive side of the sheet is protected by a white, siliconized, split-release liner which is removed during installation. Primer-free adhesion to most common building materials, including concrete, plywood, gypsum, and metal. Narrower 18" roll size, for use in construction sequencing, pre-stripping, and smaller sections of the wall field in above-grade wall applications.
10-Year Limited Warranty: For complete warranty details, consult your local Application Advisor or find the SIGA Limited Warranty Document (available at https://americas.siga.swiss/ downloads).
Technical details:
Installation Temperature: From -10 °C / 14 °F
Service Temperature Resistance (tapes): -40 °C to +100 °C / -40 °F to 212 °F Service Temperature Resistance (membranes): -40 °C to +80 °C / -40 °F to 176 °F 
Adhesive: SIGA high-performance adhesives are free of solvents, VOC, high boilers, plasticisers, chlorine and formaldehyde.
More product details here: Siga Majvest SA
---