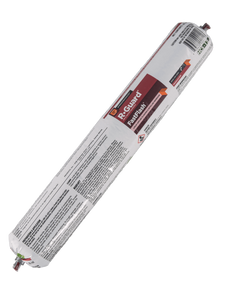 Prosoco R-Guard Fast Flash
$2589

$25.89
---
Prosoco R-Guard Fast Flash
FastFlash is part of the family of PROSOCO R-GUARD® products developed to prevent the unwanted movement of water and air through building envelopes. Utilize FastFlash as a liquid flashing membrane in rough openings and to counterflash waterproofing and air barrier components in new or existing wall assemblies.
Prosoco R-Guard FastFlash is a gun-grade waterproofing, adhesive and detailing compound that combines the best of silicone and polyurethane properties. This single-component, 99% solids, Silyl-Terminated-Poly-Ether (STPE) is easy to gun, spread and tool to produce a highly durable, seamless, elastomeric flashing membrane.
Use FastFlash as a liquid flashing membrane in rough openings of structural walls. Allows same day installation of windows, doors and other wall assembly, waterproofing or air barrier components. Use FastFlash to adhere, transition and counter-flash through-wall sheet flashing. Suitable for all climates, FastFlash bonds directly to damp or dry surfaces and cures under a variety of weather conditions. It simplifies the process of producing watertight details in new or existing construction.
Use FastFlash as part of a continuous, building-wide air barrier system, or to complement conventional waterproofing or air barrier components.
Appropriate for vertical or horizontal, above-grade applications to concrete, masonry, natural stone, structural sheathing, architectural metals, painted metals, glass, PVC, FRP, EPDM and most other building materials. Covers 15-20 square feet per sausage.
Benefits:
Solvent-free, isocyanate-free. Complies with all VOC regulations.
Silane functional polymer provides superior long-term adhesion, crack bridging and weathering characteristics.
Bonds to most common building materials without priming to produce a durable, structural, weather-tight seal which is not subject to tearing or displacement when subjected to wind loads during construction.
Will not tear or lose effectiveness when exposed to weather during construction.
May be exposed to weather for up to 6 months without compromising performance.
Single component formulation saves time and requires no mixing.
Easy to gun and spread in all climates.
Produces an opaque membrane when installed at the recommended 12-15 wet mils to simplify inspection and quality control.
Bonds and cures in wet weather and on damp substrates.
Paintable with most paints after 2 hours.
Compatible with most urethane, silicone, and acrylic sealants and coatings.
No shrinkage. No staining. No yellowing. 
Breathable - allows damp surface to dry.
Will not support mold growth.
Cured service temperatures: -75 degrees F to 400 degrees F.
Meets IITS-0230C and ASTM-C-920.
Load up the Fast Flash suasage bag into the Dripless ETS 600 Sausage Gun to apply and use R-Guard Fast Flash Spreader to sread into a thin layer.
For a more detailed description, videos, and images please visit PROSOCO's page:
http://www.prosoco.com/AirBarriers
---