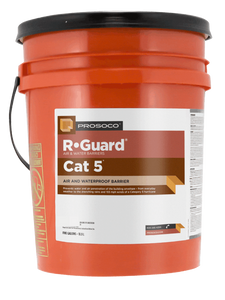 Prosoco Cat 5 Liquid Applied Membrane
$66500

$665.00
---
Prosoco Cat 5 Liquid Applied Membrane
Cat 5 is part of the family of PROSOCO R-GUARD® products developed to prevent the unwanted movement of water and air through building envelopes. Utilize Cat 5 as the primary air barrier over above grade structural surfaces prepared with R-GUARD Joint & Seam Filler and R-GUARD FastFlash. Cat 5 is proven to prevent water and air penetration of the building envelope in conditions ranging from everyday weather to the drenching rains and 155mph winds of a Category 5 hurricane.
This single component, 98% solids Silyl-Terminated-Poly-Ether (STPE) is roller applied to produce a highly durable, seamless, elastomeric weatherproofing membrane on structural sheathing and back-up CMU walls. Cat 5 can be applied in unfavorable weather conditions to dry or damp substrates. This feature eliminates many weather-related construction delays and accelerates the "drying in" of new buildings. The durable, elastomeric membrane adheres to most surfaces, is immediately waterproof and is compatible with most paints, sealants and self-adhered waterproofing or air barrier components.
Use Cat 5 as part of a building wide R-GUARD Air & Water Resistive Barrier system, or to complement conventional waterproofing or air barrier components. Appropriate for vertical above grade applications to structural sheathing, CMU, architectural metals, painted metals, glass, PVC, FRP, EPDM, and most other building materials.
Advantages:
Solvent free, isocyanate free, complies with all VOC regulations.
Living Building Challenge "Red List Free". 
Silane functional polymer provides superior long-term adhesion, crack bridging and weathering characteristics. Self seals fastener penetrations.
Bonds to most common building materials without priming to produce a durable, structural, weatherproof membrane which will not tear or displace when subjected to wind loads during construction. Easy to repair if damaged.
Will not tear or lose effectiveness when exposed to weather during construction.
May be exposed to weather for up to six months without compromising performance. In ventilated rain screen applications, Cat 5 has indefinite UV stability.
Single component - saves time.
Easy roller application in all climates.
Produces an opaque membrane when installed at the recommended 12 wet mils to simplify inspection and quality control.
Bonds and cures in wet weather and on damp substrates.
Paintable with most paints after 2 hours. Compatible with most urethane, silicone, and acrylic sealants and coatings.
No shrinkage, no staining, no yellowing.
Breathable. Allows damp surfaces to dry.
Will not support mold growth.
Positively screened for successful performance under ASTM-E-84.
Stops penetrations of air and water under normal and extreme weather conditions. 
5 Gallon Bucket, covers 400-525 square feet per bucket on smooth material. 375 ft2 per bucket for rough OSB.
Learn more: http://www.prosoco.com/AirBarriers
---