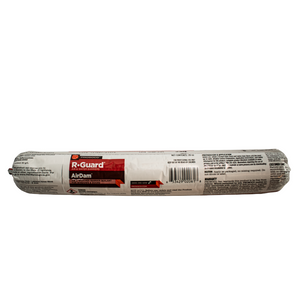 Prosoco Air Dam Window Sealant
$2142

$21.42
---
Prosoco Air Dam Window Sealant
20oz Sausage
AirDam is part of the family of PROSOCO R-GUARD® products developed to prevent the unwanted movement of water and air through building envelopes. R-GUARD AirDam completes the air barrier system by stopping the movement of moist air through cracks surrounding windows and doors. Utilize AirDam in all rough openings prepared with R-GUARD FastFlash.
This single component, 98% solids Silyl-Terminated-Poly-Ether (STPE) is easy to gun and tool in all weather conditions. AirDAm cures quickly to produce a durable, high-performance, high movement elastomeric sealant.
Installed as the interior air sealant, R-GUARD AirDam creates a long lasting, weather-tight seal that prevents moist outside air from entering, and conditioned indoor air from escaping around window and door assemblies. This ensures that wind driven rain and condensed water are diverted to the flashing membrane and the water resistive barrier before it can enter the living space.
AirDam is immediately waterproof and can be applied in unfavorable weather conditions to dry or damp substrates. This feature eliminates many weather-related construction delays and accelerates the "drying in" of new buildings.
Easily applied with standard caulking tools, AirDam bonds tenaciously and can be used with all types of window and door frame material – vinyl, wood or metal, including painted metal. It's also effective on concrete, brick, natural stone, plywood, OSB, aluminum, aluminized steel and galvanized steel, as well as extruded PVC, FRP, SMC, RIM and glass.
---