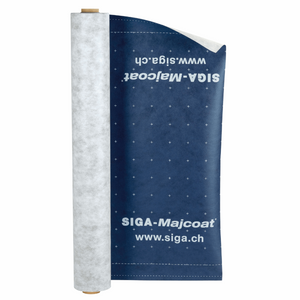 SIGA Majcoat Roof Membrane : 4.9' Wide
$42981

$429.81
---
SIGA Majcoat Roof Membrane : 4.9' Wide  
Length/roll: 164 feet
Square footage: 807 square feet
Thickness: 0.6 mm 
US Perm Rating 34.0  
The driving rain-proof and diffusion-open breathable membrane Majcoat is perfectly suitable for creating a permanently windtight building envelope. It can be used for between and above-rafter insulation and for rear-ventilated facades. Driving rain resistance of Majcoat and SIGA accessories has been proven by the TU Berlin. Material: 3-layered, monolithic functional layer protected on both sides by PP fibre fleece.  
Majcoat complies with the requirements of ZVDH
Complies with the ZVDH product data sheet Breathing membranes class UDB-A according to table 1
Suitable for makeshift coverage
Suitable SIGA accessories: Wigluv, Primur Roll, Nail sealing tape
Suitable for use as roof membrane class USB-A
Combining Majcoat with the vapour control layer Majpell (sd value=5 m) ensures perfect moisture transportation with a diffusion gradient of 1:50.
Advantages:
3-layer, sturdy and tear-proof - no damage in construction phase
Closed functional layer protected by 2 fleeces - driving rain-proof and durably moisture-diffusing
Imprinted cutting and bonding aid - saves time
---