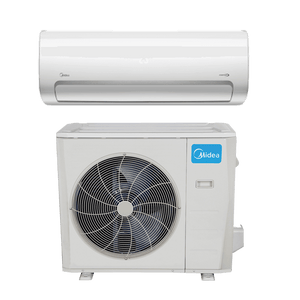 Midea 18K Max Series Kit
$2,00160

$2,001.60

Save $1,200.96
---
Midea DIY Heat Pump & Wall Unit
** This kit incudes 1 High Wall Unit and 1 Heat pump, and provides enough capacity to meet a 18,000 BTU/h demand specification. Line Set sold separately **
Midea Ductless Heat Pump & Indoor Unit Kits 
These kits take the guess work out of sizing and selecting a mini split system to fit your needs. Small Planet Supply engineers have done the work of pairing the appropriate heat pumps with indoor wall units to meet a variety of heating/cooling capacities. Once you figure out how much capacity you need, then just find the corresponding Midea Kit that fits your needs. This 18K Max Kit contains one Midea outdoor Heat Pump unit and one Midea High Wall fan unit, the kit is rated for 18,000 BTU/h and serves a single zone. This kit provides the main two components of the system, but the line set will need to be sourced separately since the length of line needed will vary based on installation location and distance between the units. The line set carries the refrigerant between the outdoor unit that does the work of heating or cooling it and transports it to the indoor wall unit. Variable speed fans blow over the refrigerant filled coils and heat or cool the room. With a SEER rating of 28.2, this way of heating and cooling is much more efficient than electric resistance and much greener than burning natural gas. Choose a Midea mini split for a comfortable home and a happy environment.
These units are designed to be compact, which makes them ideal for many spaces, be they new construction, replacement of old hardware, or renovation of older construction. The indoor fan unit has a clean and minimalistic design and sits high on the wall, unobtrusive and out of the way. With the absence of ductwork, these units can be installed on existing walls without issue. The outdoor heat pump units do all of the hard work of heating or cooling the refrigerant, and do so quietly, meaning noisy appliances are not a worry for you or your neighbors. Worried about if the outdoor unit can operate at below freezing temps? Worry not, the heat pump featyures a built in base pan heater to protect form snow and ice build up, and the unit is rated to continue producing heat all the way down to -22F, meaning you can count on a warm home in all but the coldest of North American climates.
Features:
- Energy Efficient with a SEER rating of 28.2, and many ENERGY STAR certified models.
- Wi-Fi enabled with optional Wi-Fi Accessory Kit to easily connect to the Midea Air app for monitoring and control of your system on the go
- Flexible Modes with Sleep Mode for sleeping comfort, Eco Mode for extra efficiency, and a Turbo Mode to heat or cool a space quickly
- Occupancy Sensor available for the unit to automatically detect activity, the horizontal angle of airflow can be adjusted to either blow away from or follow people
- Certified Compatability to connect to conventional third-party thermostats. Requires 5-wire thermostat
- Humidity control through smart sensor technology to be able to detect humidity levels in the room, and then select drying mode for on demand dehumidification
- Built-in basepan heater quickly removes snow and ice in extreme cold weather conditions
- Auto-restart function to resume previous settings in the event of a power outage
- Extra low temperature heating down to -22F
- Stepless frequency adjustment for precise control of the system to maintain a stable and constant room temperature
- High-temp protection for the condenser unit
- Refrigerant leakage detection will alert user of any leaks
- Quiet outdoor operation, as low as 54.6 dB(A)
Specs: 
Midea Max 18k Heat Pump Outdoor Unit
- 28.2 SEER
- 14 HSPF
- Line set: 3/8" - 5/8"
- Pre Charge Line Length: 25'
- Max Line Length: 98'
- Max Lift: 66'
- 115v
- Cooling operating range; -13 - 122 F
- Heating operating range; -22 - 86 F
Midea Max 18K High Wall Indoor Unit
- Wireless Remote Controller included
- Occupancy Sensor
- Modes: Cool, Heat, Dry, Fan, Auto
- Four fan speeds
- 208/230-1-60
- Airflow lowest to highest in CFM; 176/196/238/308
- Sound pressure lowest to highest in dB(A); 32/33.3/36.9
Warranty Information:
Air conditioner and Heat Pump Condensing Unit/Fan Coil are warrantied for 7 years on the compressor and 5 years for parts. Product must be installed properly and by a licensed HVAC technician.
ONDITIONS
---